Situated in the town of Kihei on the sunniest coastline in Maui are the Kealia Condominiums. Kihei is best known for its 6 mile stretch of beautiful beach with constantly sunny, near perfect weather. Mt. Haleakala rises up behind the town and holds rain clouds in its 10,000 foot grip. Kihei gets only 10" of rain per year. This picturesque community looks out across the sea to the islands of Lanai, Kahoolawe and Molokini. It is a quick 7 miles from the Kahului Airport, 20 miles to Lahaina and a few miles from Wailea.
November through March hundreds of humpback whales return to mate, birth and nurse their young. Guests have watched them from the terrace gracefully gliding through the blue Hawaiian waters.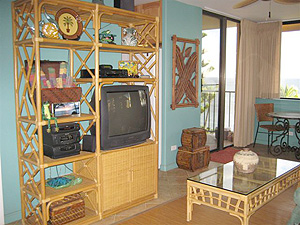 Living Room
Recently remodeled, this cozy one bedroom condominium is a corner unit on the fifth floor overlooking the ocean. Affectionately referred to as #501 by guests who frequently return, this charming condo comes equipped with everything you could ever want or need while visiting Maui. More comfortable than an impersonal hotel room. This intimate vacation getaway will be the perfect place to relax and enjoy the spirit of Hawaiian Aloha.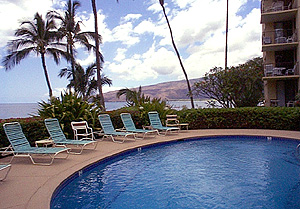 Poolside

If you are looking to make new friends while staying in Maui, Kealia has a regularly scheduled party every Wednesday afternoon. Bring your favorite appetizer or pu pu and meet others who are enjoying the beautiful island of Maui.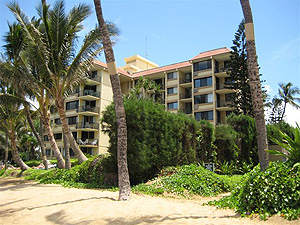 View from beach toward condo
A beautiful beach sits just a few feet away on the ground floor. However, if you prefer to sit by the pool the Kealia has a crystal clear, refreshing swimming pool within earshot of the sounds of the soothing waves.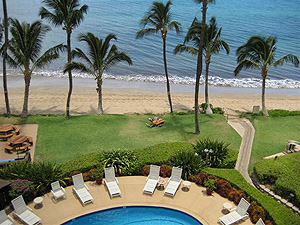 Kealia Pool
Don't miss the Kihei Farmers' Market, Monday, through Friday. Just down Kihei Road in front of The ABC store. There you will find fresh grown produce, shells, T-shirts and much more.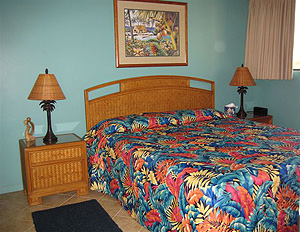 Bedroom
Kitchen equipped with:
Coffee Maker
Bagel Toaster
Blender
Dishwasher
Complete sets of dishes, mixing bowls, bake ware, pots & pans
Knives, corkscrew, bottle openers etc.
Refrigerator/Freezer
Microwave
Stove/Oven
Washer and Dryer
Other amenities:
Large television with cable TV and HBO

Cordless phone with answering machine

Beach towels, mats, portable cooler